External Site Notice
You are now leaving Dover Federal's website and entering a third party site. Dover Federal is not responsible or guarantee the content on that site. Privacy and security policies may differ. Please review their privacy policy for terms and conditions of use.
Stay Here
Leave Site
Maintain control of your finances anytime, from anywhere, with the convenience of Dover Federal Online and Mobile Account Access. From the palm of your hand, you can check your balance, transfer funds, make deposits into your account and pay bills. Enjoy financial security and convenience.
To Enroll in Online Banking:
Complete the required registration information and click on the verify button.

The next screen that appears, will allow you to select your username and password

Once your account setup has been completed, login to your online account from the home page.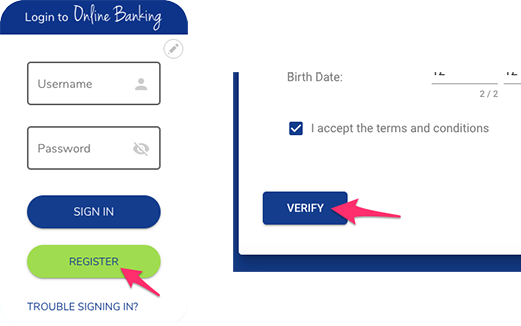 4. Within the online banking platform, view balances, transfer funds, set account alerts and view eStatements.
5. Once enrolled in online banking, download the Dover Federal app from the Apple App Store or Google Play Store. You can also register from the mobile apps.
24/7 Phone Access
Check balances, transfer money, and make loan payments through our automated teller, Maxine. This easy-to-use system guides you through your banking tasks and can be accessed from any touch tone phone.
ATM Access
Dover Federal provides Fee-Free Access to over 50,000 ATMs worldwide. To locate an ATM near you, use our ATM Finder.
Learn More About Online Banking
Dover Federal Credit Union has quick and helpful tutorials to help you navigate your online banking. See more about:
Member Testimonial
This is a great credit union. The employees are friendly and do their job well. The rates are great and the fees are low. I will never use a regular bank again!
Barbara - Hartly, DE