External Site Notice
You are now leaving Dover Federal's website and entering a third party site. Dover Federal is not responsible or guarantee the content on that site. Privacy and security policies may differ. Please review their privacy policy for terms and conditions of use.
Stay Here
Leave Site
The Dover Federal Discount Card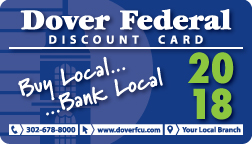 At Dover Federal, we believe our communities are only as strong as the small businesses run by our friends and neighbors. We've partnered with some local businesses to offer exclusive discounts to our members. When you buy local and bank local, your money stays in the community, creating a stronger economy where we live and work. Stop in to one of our branches to receive your discount card!
2018 Discount Card Partners:
 
BLUvintage
150 S. Governors Ave.
Dover, DE 19901
15% OFF any regular priced item*
---
Petite Sweets
111 Loockerman St. • Dover, DE 19904
22 S. Walnut St. • Milford, DE 19963
3 Cake Pops for $5; 6 for $10; 10 for $15
https://thebestcakepopsever.com/
---
Painted Stave Distilling
106 W. Commerce St.
Smyrna, DE 19977
10% OFF total purchase
---
La Baguette
323 S. Governors Ave.
Dover, DE 19904
10% OFF Catering
Mobile Cloud
Video Game Party
302-531-5858
10% OFF 2-Hour Party
Limousine Unlimited
12600 S. DuPont Hwy.
Felton, DE 19943
10% OFF
---
Dover Federal Gives Back
Dover Federal credit union believes in the philosophy of "People Helping People". We are committed to giving back to the communities we serve. Throughout the year, Dover Federal raises funds and awareness for charities in need. Below are our initiatives for the 2018 calendar year.
About KSI
Kent-Sussex Industries, Inc. (KSI) is a private, not for profit vocational rehabilitation organization which serves the residents of Kent and Sussex Counties Delaware and is governed by a volunteer Board of Directors.
The mission of KSI is to assist people with disabilities in the pursuit of their potential in employment and meaningful participation in their communities. KSI is a full member agency of the United Way of Delaware and since 1980 has been accredited by the Commission for Accreditation Rehabilitation Facilities (CARF).
About CIS
Community Integrated Services' mission is to empower people with disabilities through individualized employment opportunities that foster self-sustainability, equality, and community. Through partnerships with area businesses and organizations, CIS works to find jobs that fulfill the employment goals and desires for the people they serve.
We believe that all people have the right and responsibility to be an active part of their community, regardless of their disability, and Community Integrated Services helps people with disabilities achieve their employment goals. We provide support during the job search, during the first days at a new job, and then continue support at work on an as-needed basis. We have an innovative, creative staff that comes from diverse backgrounds, and we use our talent and expertise to help find jobs that are a great match for each individual's skills and interests.
About B+
The Andrew McDonough B+ Foundation honors the life of Andrew McDonough. Andrew battled leukemia, septic shock and complications of childhood cancer for 167 days before passing away on July 14, 2007, at the age of 14. Andrew's B+ blood type became his family's and friends' motto throughout his fight against childhood cancer — to "Be Positive".
The B+ Foundation is about Kids Helping Kids Fight Cancer — raising money through dance marathons, 5Ks, T-shirt sales and more, to provide financial and emotional support to families of children with cancer nationwide. The B+ Foundation also funds critical, cutting-edge childhood cancer research.
About FSAC-SPCA
The mission of the First State Animal Center and SPCA is twofold:
WE PROTECT ANIMALS FROM PEOPLE… by prevention of cruelty and suffering, rescue of the trapped or injured, emergency medical treatment, temporary housing for homeless animals and the reduction of homeless pet overpopulation through targeted spay/neuter and education programs.
AND WE PROTECT PEOPLE FROM ANIMALS… through our serious commitment in placing only stable, safe and well-adjusted animals into homes where they will thrive while simultaneously educating the public about responsible pet guardianship.
About USO
For over 77 years, the USO has been the nation's leading organization to serve the men and women in the U.S. military, and their families, throughout their time in uniform. From the moment they join, through their assignments and deployments, and as they transition back to their communities, the USO is always by their side.
Today's USO continuously adapts to the needs of our men and women in uniform and their families, so they can focus on their very important mission. We operate USO centers at or near military installations across the United States and throughout the world, including in combat zones, and even un-staffed USO service sites in places too dangerous for anyone but combat troops to occupy.
About CMN
More than 10 million kids enter a children's hospital like Johns Hopkins Children's Center across North America every year. To provide the best care for kids, children's hospitals rely on donations and community support, as Medicaid and insurance programs do not fully cover the cost of care. Since 1983, Children's Miracle Network Hospitals has helped fill those funding gaps by raising more than $5 billion, most of it $1 at a time through Miracle Balloon icon campaigns. Its various fundraising partners and programs support the nonprofit's mission to save and improve the lives of as many children as possible.
About FBD
The Food Bank of Delaware, a member of Feeding America, formerly America's Second Harvest, is a statewide nonprofit agency whose vision is a community free of hunger.
We have grown from humble beginnings as an organization who served 50 agencies out of a basement in the Northeast State Social Service Center in Wilmington to a statewide hunger-relief organization with operations in both Newark and Milford. Today we are the only facility in Delaware with the equipment, warehouse and staff to collect donations from all sectors of the food industry and safely and efficiently redistribute them to those who need it most.
While we know that there is a growing need for hunger-relief programs in the state of Delaware, we also recognize the need to think beyond traditional hunger-relief methods and provide programs that give low-income people the skills needed to earn a living wage so that they no longer have to rely on support from agencies like us.
Member Testimonial
Dover Federal gave me a better rate and helped me saved hundreds of dollars! Thank You Dover Federal Credit Union!
Ronald - Dover, DE