External Site Notice
You are now leaving Dover Federal's website and entering a third party site. Dover Federal is not responsible or guarantee the content on that site. Privacy and security policies may differ. Please review their privacy policy for terms and conditions of use.
Stay Here
Leave Site
America Saves Week is a widely recognized national campaign where thousands of organizations join together to collectively encourage their communities to focus on their individual financial wellness.
Dover Federal is participating this year and over the course of a week, starting February 22nd, we will cover money-related topics from a relatable, down-to-earth, positive perspective. If you plan on participating you can expect to end the week with tools, resources, and clarity on your current financial situation, new savings goals, and a realistic plan to achieve them.
Monday, February 22, 2021
Save Automatically
Chances are that you or someone you love has experienced a loss of income since the onset of Covid-19 in America— so what better time to take this week to get a clear view of your finances, set your financial goals, and make a plan to achieve them?
We kick off Day One of America Saves Week by focusing on the easiest and most effective way to save— to SAVE AUTOMATICALLY.
How do you save automatically?
The two best ways to save automatically are:
Splitting Your Direct Deposit: Have your employer direct a certain amount from your paycheck each pay period and transfer it to a retirement or savings account (or both). Traditionally, you can set this up using your employer's direct deposit program. Contact your HR representative for more details, and set this up today. No amount is too small!


Setting Up An Automatic Bank Transfer: At a chosen time, Dover Federal can transfer a fixed amount from your checking account to a savings or investment account. Give us a call to set this up or do it yourself now in Online or Mobile Banking by setting up Scheduled Transfers.
Having a "set it and forget it" approach to saving increases your success rate.
Remember, savings is a HABIT, not a destination. When starting your savings journey, getting into the habit of saving is so important. Start small and THINK BIG. Even if your savings goal is $10 a week until you accumulate your first $500 in your emergency fund, you'll be better prepared for those pesky unexpected emergencies and can simply pay it with your cash savings!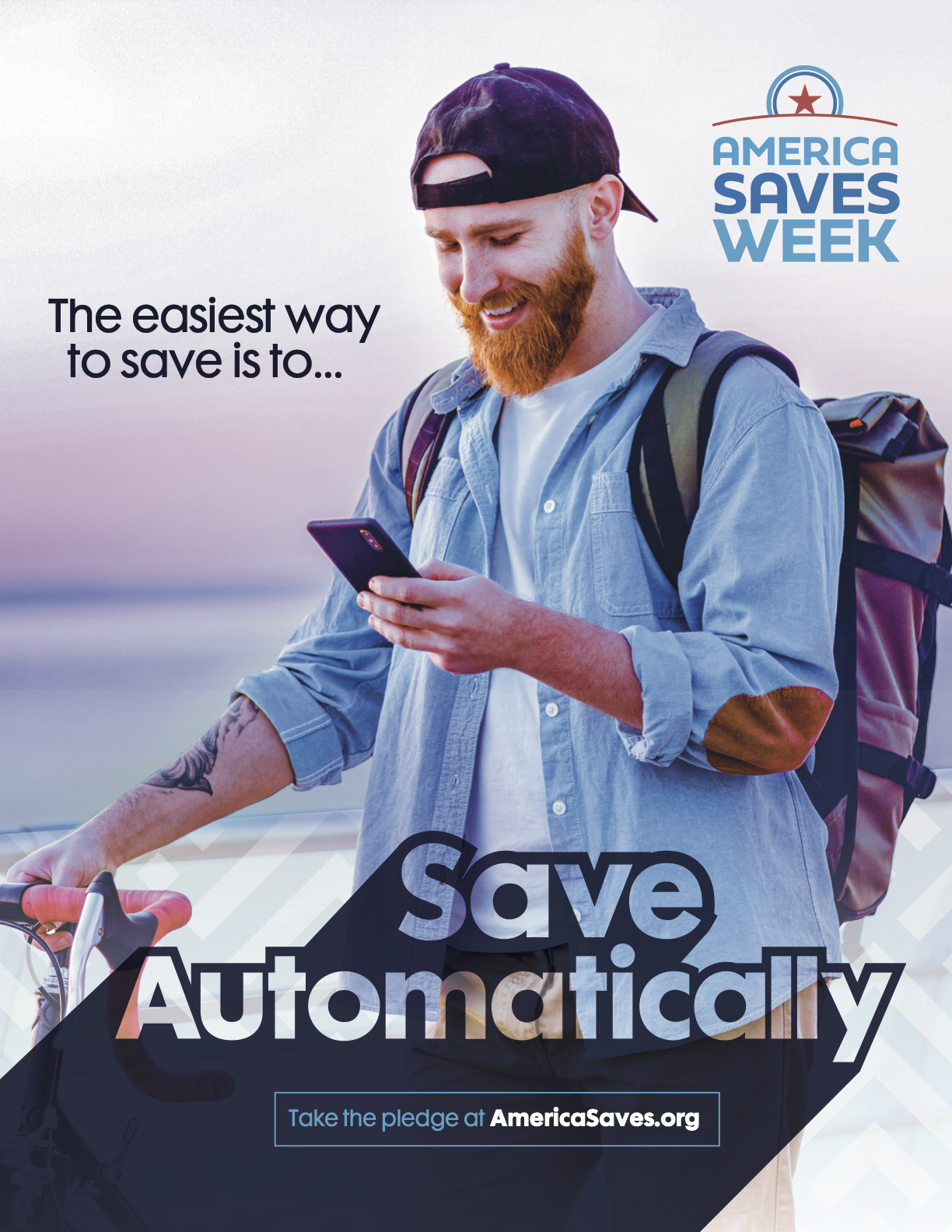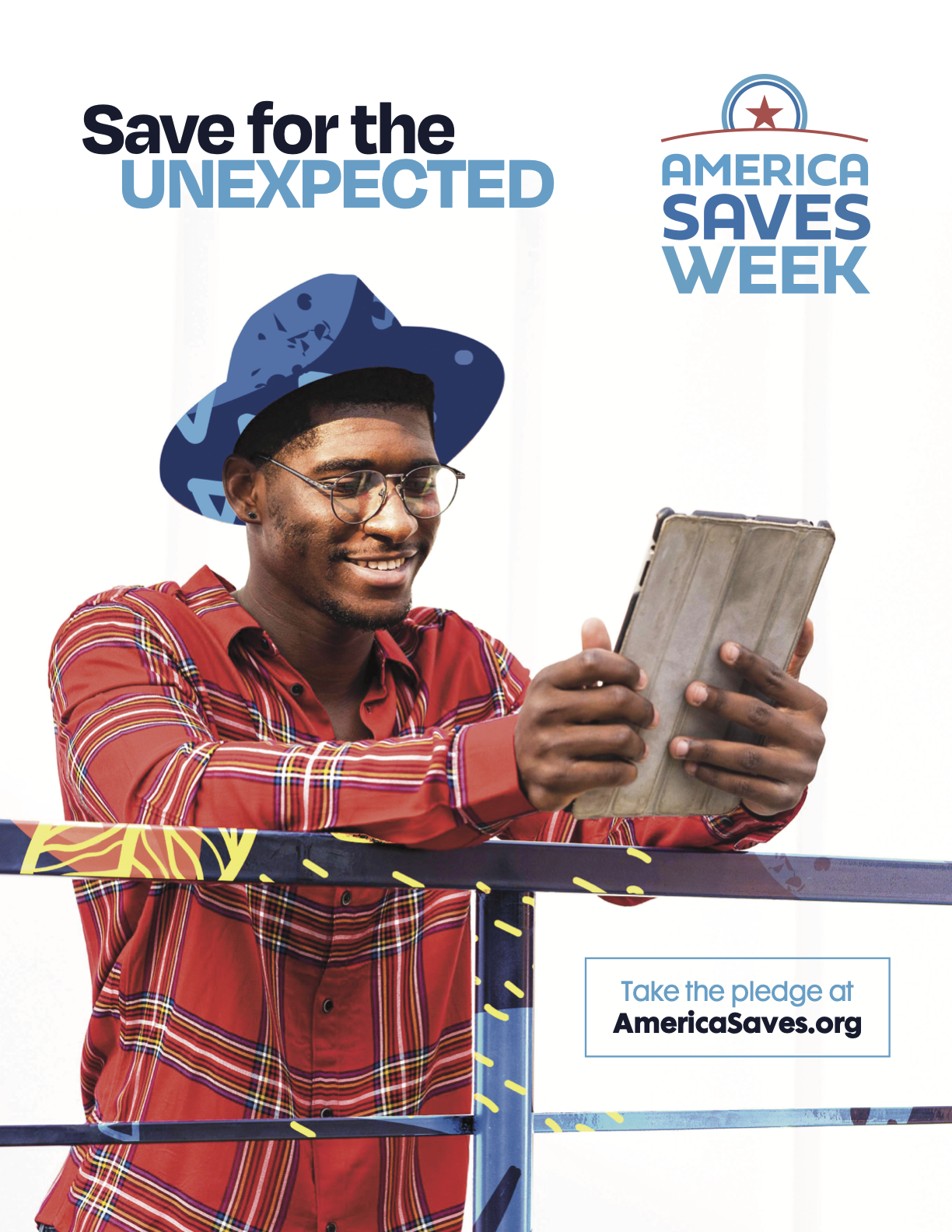 Tuesday, February 23, 2021
Save for the Unexpected
Day Two of America Saves Week has us preparing for something that we should all actually expect: To have an "unexpected" financial emergency.
Today, for Save for the Unexpected Day of America Saves Week, we'll check in with ourselves to ensure that we are building an emergency fund.
Yesterday we mentioned that saving is a habit, not a destination. The best place to put that into practice is when you are building an emergency fund.
Read: 38 Reasons To Have At Least A $500 Emergency Fund
For decades financial gurus have told us that we need to have 3 to 6 months of expenses saved to be financially secure.
While the more you can have socked away for a rainy day, the better, for most Americans, saving that amount is overwhelming and scary. But, when you focus on building your HABIT of saving and start with a small goal of just $500, that seems much more attainable. Then, once you achieve that milestone, you can confidently keep going!
Before you know it, saving has become a lifestyle. You're saving automatically and building your rainy day fund!
Wednesday, February 24, 2021
Save for the Unexpected
Many of us have thought about retirement. You may already be saving for it, which is excellent.
But have you thought about HOW you want to retire? More specifically, have you thought about what it will take to continue to live the lifestyle you have or the lifestyle you want once you retire?
Today is Save to Retire Day of America Saves Week.
Many Americans have expressed that the pandemic has helped them realize what matters most to them. Family, stability, creating memories, and travel were sentiments that we repeatedly heard when asked what was most meaningful to them.
Being able to have the type of lifestyle you want during retirement— spending quality time with loved ones, traveling, and not being a financial burden on your family, means that you have to prepare TODAY.
As you sit down to do a financial check-in within yourself around your retirement today, consider not just IF you're saving for retirement, but if you're saving ENOUGH for retirement.
For more tips and resources around saving for retirement, including two retirement calculators that will help you determine how much you should be saving for retirement based on your current scenario, check out this article, "Questions To Ask Yourself When Saving For Retirement."
Then take the America Saves Pledge to receive resources, reminders, and tips from America Saves to support you in your retirement savings goal. You'll also be on your way to eligibility for the #ImSavingFor Sweepstakes , where you could be entered to win one of our TWO $500 cash prizes.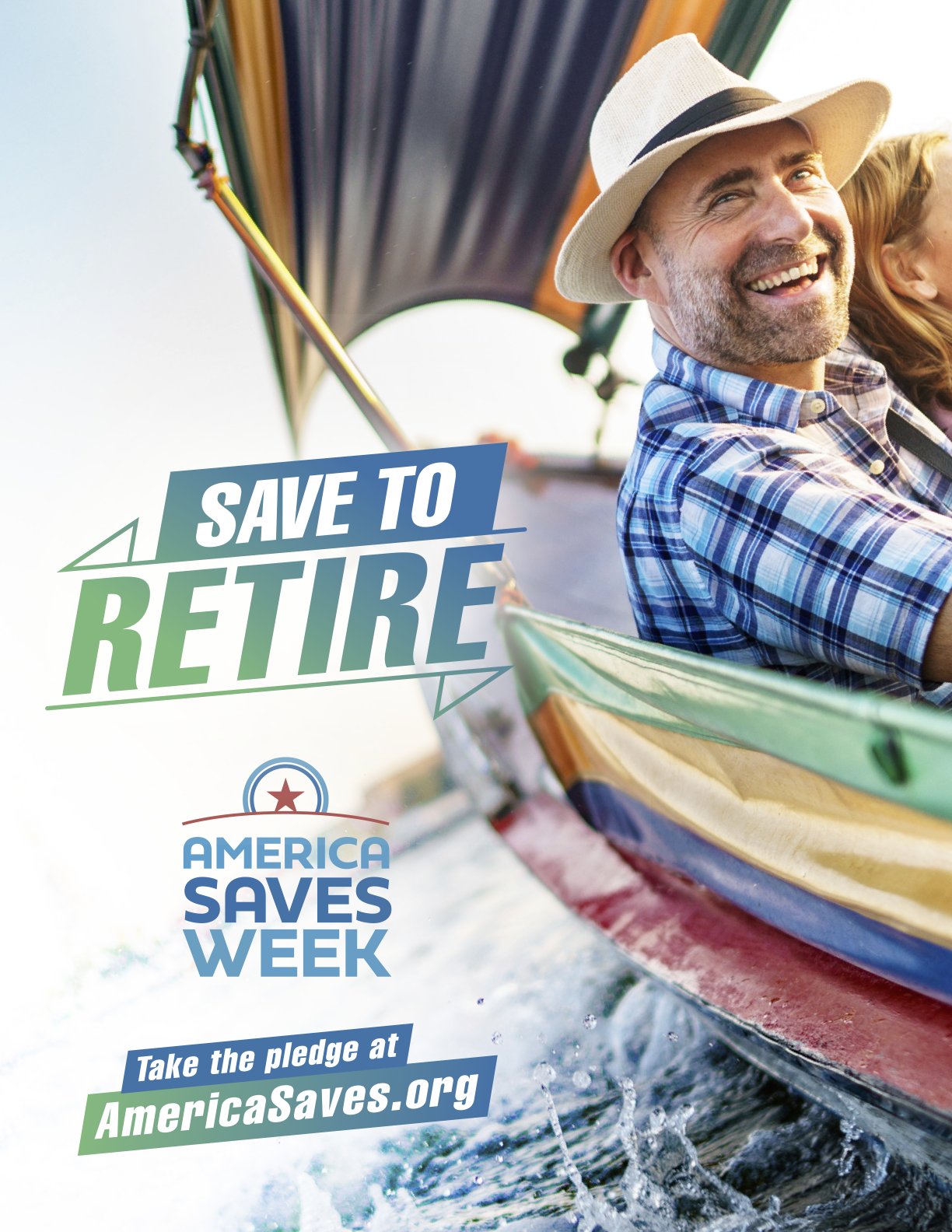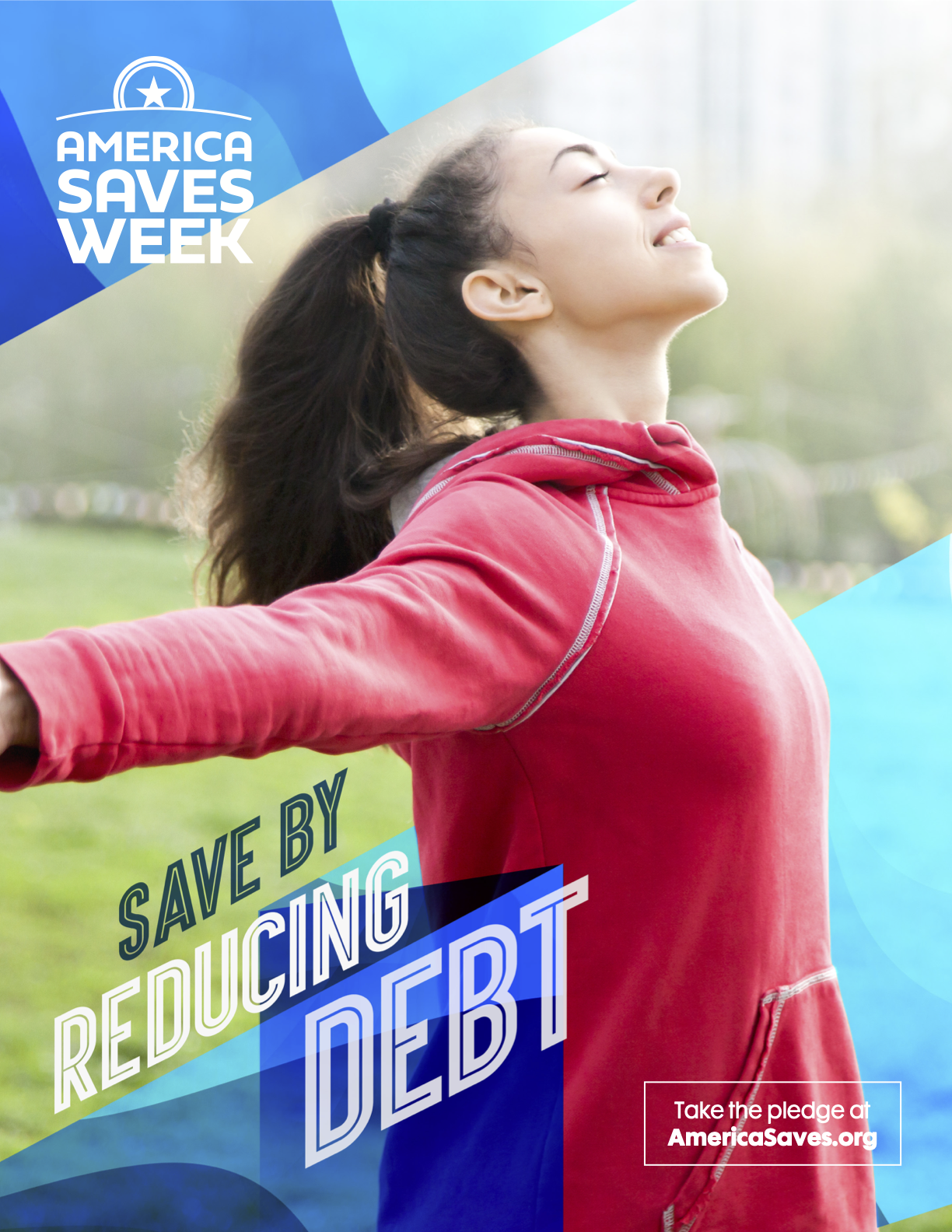 Thursday, February 25, 2021
Save by Reducing Debt
It's Day Four of America Saves Week, and here's the ONE take away you need to know as you consider today's focus, "Save by Reducing Debt":
WHEN YOU PAY DOWN YOUR DEBT, YOU'RE SAVING!
By actively reducing your debt, you are saving on interest. When you pay on time, you save on late fees and maintain your credit score— saving money long-term.
With so many Americans being affected financially by the pandemic, actively paying down your debt may not be a priority, and that's okay. Be sure that you talk to your creditors and take advantage of any repayment options or arrangements that allow you to keep your credit score intact and avoid additional interest and late payment fees.
Check out today's blog, "Paying Down Debt Is Saving," for tips, resources, and tools that help you get a clear view of your finances and decide how to best approach reducing your debt and expenses.
We encourage you to join a community of people on a similar savings journey. The #ThinkLikeASaver Facebook Group is hosted by America Saves and is a great place to get ongoing support and interact with like-minded people committed to saving effectively.
Three more actions you can take as part of America Saves Week:
Take the America Saves Pledge to get support and accountability as you reach your savings goal.
Enter the #ImSavingFor Sweepstakes for a chance to win up a $500 cash prize.
Join us for the #ThinkLikeASaver: Tackling Debt Town Hall on the America Saves Facebook page at 2 pm ET.
Friday, February 26, 2021
Save for the Unexpected
Did you learn what you needed to know about money as a child, from your parents, other adult role models, or school? For many Americans, that answer is no.
As we round out America Saves Week, we want you to spend time thinking about how you can instill ways to #ThinkLikeASaver in the young people in your life. After all, savings can be both tangible (like saving in a piggy bank) and intangible (like preserving energy by turning off the lights).
Meet Kellie, a military spouse, and her two children, Hannah and Rhys, as they share how they encourage their children to save.
Here are some steps you may want to take as you close out your financial check-in!
Take the America Saves Pledge to get support and accountability as you reach your savings goal.
Enter the #ImSavingFor Sweepstakes for a chance to win one of TWO $500 cash prizes.
Join the #ThinkLikeASaver Facebook Group hosted by America Saves, to get ongoing support and interact with like-minded people committed to saving effectively.
Sign up for text reminders, tips, and support from America Saves while on your savings journey. Just text AMERICASAVESTEXT to 877877.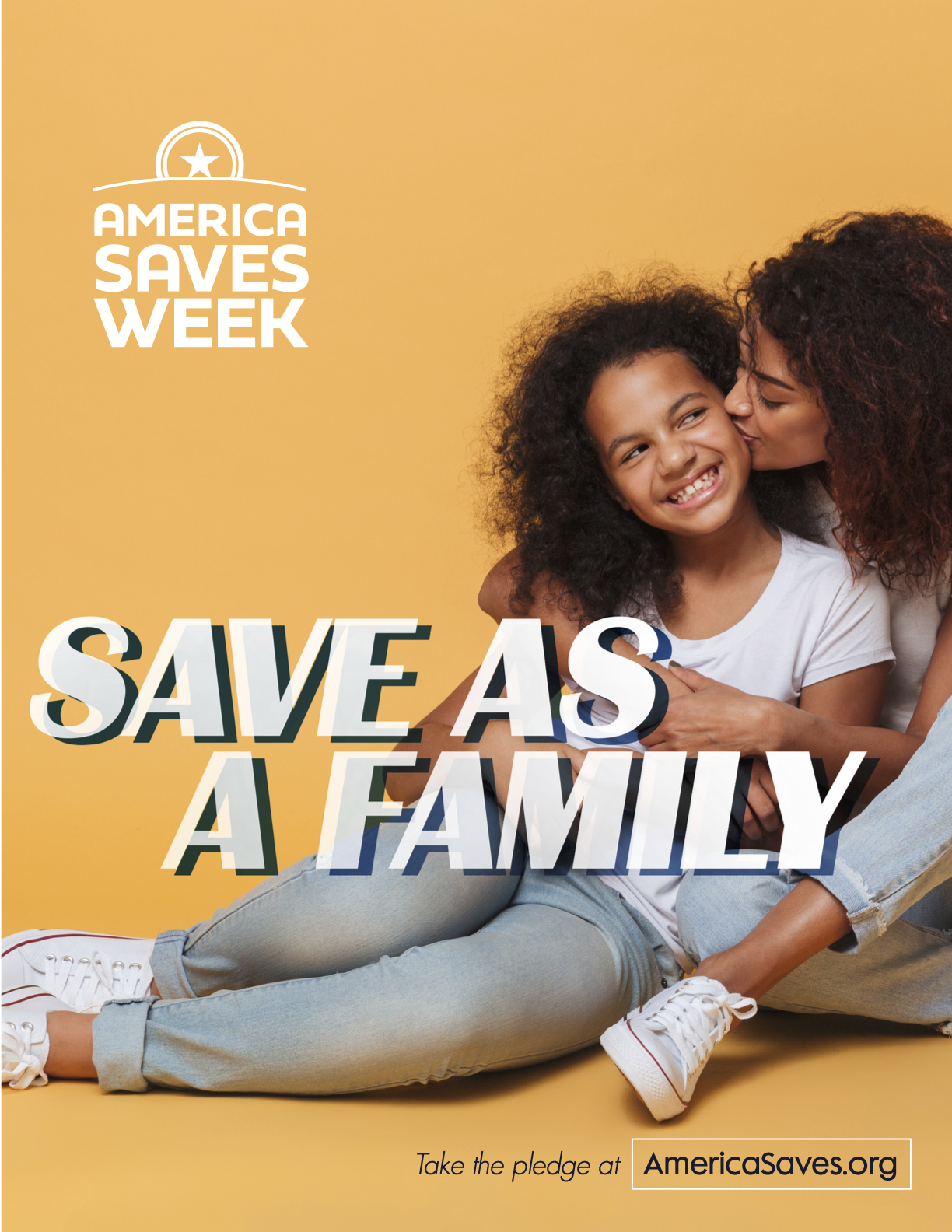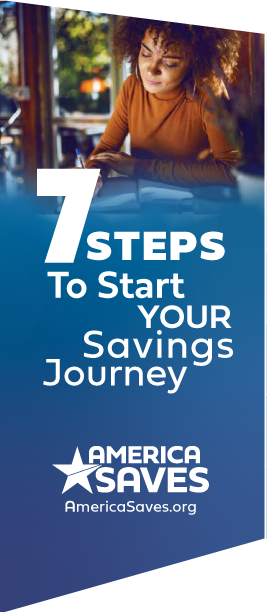 7 Steps To Start Your Savings Journey

Commit to Establishing Emergency Savings
Unexpected emergencies often sabotage our financial goals, so getting in a savings mindset and
building aan emergency fund is crucial. Start small and think big by setting a goal of a $500 rainy day fund. Once you've reached that goal, it will be easy to continue!
Take The America Saves Pledge
Now that you're committed to saving, it's time to consider how you'll achieve it. The America Saves
Pledge is a tool that helps you make a simple plan to meet your savings goal while offering you
long-term accountability and support along the way.
Open Your Savings Account
If you don't have a savings account, now's the time! Ensure your savings account is federally insured
with a reputable financial institution with no fees (or low fees).
Set up Automatic Savings
The easiest way to save is to save automatically! Contact your employer to set up a direct deposit into your savings account each pay period or set up an automatic transfer from your checking account to your savings account at your financial institution.
Get Serious About Reducing Your Debt
When you reduce your debt, you save on interest and fees while maintaining or improving your credit score! Create a debt reduction plan that works best for you. Utilize America Saves resources to see the different options to pay down debt.
Get Clear On Your Finances
Create a Spending and Savings Plan that allows you to easily see your income, expenses, and anything leftover. Once you have a clear view of your finances, you can determine where to make changes and what else you should be saving for based on your financial goals.
Repledge for Accountability & Support
Once you've determined what other short-term and long-term savings goals you have, take the
America Saves pledge for a new category to continue the receive tips, support, reminders, and tools to help you achieve your new savings goals.
Member Testimonial
This is a great credit union. The employees are friendly and do their job well. The rates are great and the fees are low. I will never use a regular bank again!
Barbara - Hartly, DE