External Site Notice
You are now leaving Dover Federal's website and entering a third party site. Dover Federal is not responsible or guarantee the content on that site. Privacy and security policies may differ. Please review their privacy policy for terms and conditions of use.
Stay Here
Leave Site
No hit to your credit* to see if you qualify for a rate up to 57%1 below the national average. The Dover Federal Advantage Mastercard® puts you in the driver's seat to keep your credit heading in the right direction with a rate as low as 11.49% APR.2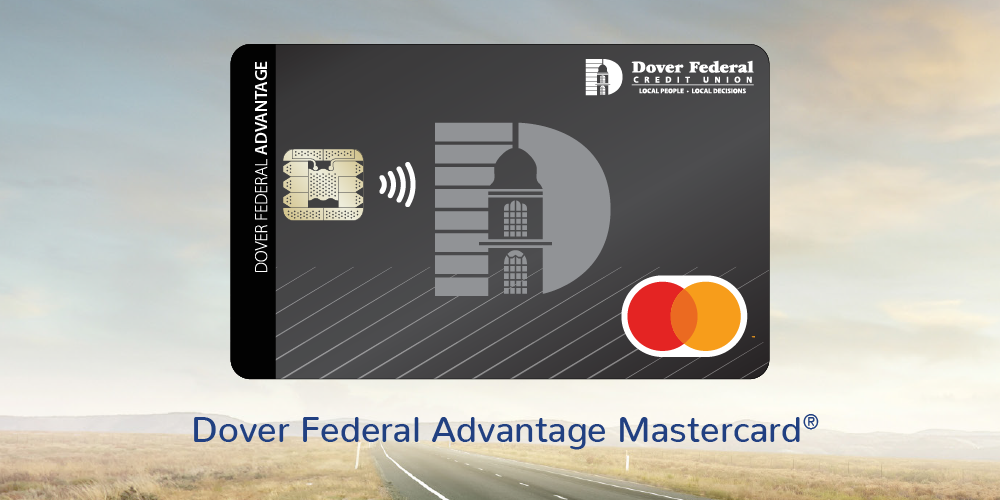 Our Advantage Mastercard® comes with an unbeatable variable interest rate, allowing you to pay down balances at your own pace, free from penalties or hidden fees. With an interest rate that good, it's hard not to take advantage.
Variable Rate as low as 11.49% APR2
Contactless & Mobile Wallet Technology
No Annual Fees
25-Day Grace Period for Purchases
Accepted at Merchants and ATMs Worldwide
Get on the road to better credit.
What does a low variable interest rate with Dover Federal translate to?
Less debt
A rate lower than the national average means you can pay down your debt faster.
Smart finances
When the prime rate drops, you can take advantage of lower interest costs on your balances.
More money
With less debt and improved credit, your cash and credit availability will increase!
Benefits on all our Mastercard Cards
Our Mastercard® credit cards offer many fantastic benefits, including continued convenience and security with contactless technology.
There are great additional benefits as well that you can learn more about in your Guide to Benefits:
* Soft credit inquiry is used during the preapproval process. A credit check is necessary when accepting any credit card offer. See credit union for details.
1 Variable rate as low as 11.49% APR. Based on national credit card average as per creditcards.com/news/rate-report as of 6/15/2023. Rates are based on prime rate and an evaluation of credit. Your actual APR will be disclosed at the time of credit approval. Not all applicants will qualify for the lowest rate. Rates and offers are current as of 6/15/2023 and are subject to change. Terms and conditions apply.
2 APR = Annual Percentage Rate.
Member Testimonial
This is a great credit union. The employees are friendly and do their job well. The rates are great and the fees are low. I will never use a regular bank again!
Barbara - Hartly, DE