External Site Notice
You are now leaving Dover Federal's website and entering a third party site. Dover Federal is not responsible or guarantee the content on that site. Privacy and security policies may differ. Please review their privacy policy for terms and conditions of use.
Stay Here
Leave Site
At Dover Federal, we think our kids are pretty special and we are dedicated to helping them get there! That is why we offer savings and checking programs that reward them for doing the right things, like saving money and getting good grades!
---
Youth Savings Account
From birth to 17, a Youth Savings account is a great way to help kids establish good financial habits that will last a lifetime. It's the ideal way to help them manage their allowance, earnings, and gifts.
They'll be able to watch their savings grow and earn dividends as they work toward financial goals, and learn how finances work. Plus, Youth Share Savings holders receive these additional benefits:
Deposit just $5 to open an account

Help develop good savings habits

Earn dividends monthly

Enrolled in Super Saver Program

Have the chance to enter quarterly youth contests
Teen Checking Account
A Teen Checking account is a great way to learn how to handle a checking account for kids 13 up to 17 years old. This fee free account allows youth to get a debit card as young as 13 years old and will teach them responsible spending habits that will be critical to their financial success as they become adults.
This account is designed to help our youth move towards financial independence and features great benefits such as:
Only a $5 deposit to open account

Qualify for a debit card once you turn 13

Develop smart and responsible purchasing habits

The flexibility of unlimited withdrawals

Enrollment In our Super Saver Program
Super Saver Program
With a Youth Savings or Teen Checking account, you're automatically enrolled in our Super Saver Program. This program is designed for you, our youth membership. It combines great ways to earn cool rewards with learning how to be a responsible and smart financial individual. Featuring contests and events along with our Youth Rewards Card for tracking your progress towards free stuff.
Youth Rewards Card
The Youth Rewards Card is designed to reward you for doing the right thing! You'll receive a card to track your progress and earn stickers for doing a variety of things, like deposit money or making the honor roll. Once your card is full, you'll be able to redeem it for your reward!
How to earn stickers
$10 Monthly Deposit: 1 Sticker (Up to 12 per year)

High Honor Roll (Straight A's) @ School*: 4 Stickers (16 possible per year)

Honor Roll (A's and B's) @ School*: 2 Stickers (8 possible per year)

Your Birthday: 5 Stickers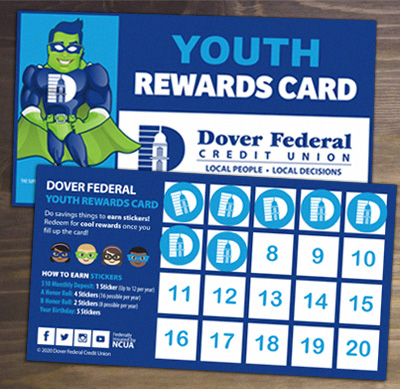 Who can have a Youth Account?
Anyone who is age 17 or under and has a relative (parent, grandparent, sister, brother, etc.) who is a member of Dover Federal. A parent or other adult over the age of 18 is required as a joint owner of the account. Minors would be eligible for the Teen Checking account and debit cards starting at age 13.
Quick & Convenient
Withdraw cash
Verify balances
Transfer funds
A share account with a $5 minimum balance is required for membership at Dover Federal Credit Union. Members under 18 must have a parent or other adult over the age of 18 on the account. See Credit Union for details. Privacy Notice: The rights and privacy protection of your children are important to us at Dover Federal Credit Union. That is why, in compliance with the Children's Online Privacy Policy Act (COPPA), we do not collect or distribute personal information for the purposes of this website.

* Report card required as proof.
Member Testimonial
This is a great credit union. The employees are friendly and do their job well. The rates are great and the fees are low. I will never use a regular bank again!
Barbara - Hartly, DE