External Site Notice
You are now leaving Dover Federal's website and entering a third party site. Dover Federal is not responsible or guarantee the content on that site. Privacy and security policies may differ. Please review their privacy policy for terms and conditions of use.
Stay Here
Leave Site
Summer 2020 Newsletter
Newsroom
cmartarano@dov…
Tue, 08/11/2020 - 10:25
In this quarter's issue of our newsletter, we have a message from our President and CEO as well as: Recent Workplace Partner Additions Cash-Out Refinancing: Is It Right for You? Home Equity Partners Program 62nd Anniversary Promotions Community Spotlight And more! View Newsletter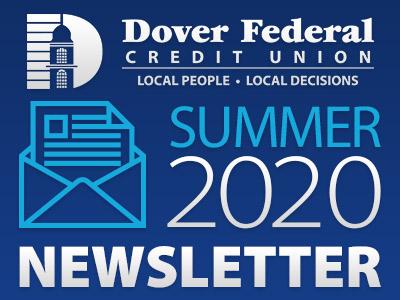 The official place for all press releases by Dover Federal Credit Union.
Summer 2020 Newsletter
People choose to refinance their homes for different reasons. Some want to lower their monthly payments. Some want to save money on interest by paying off their home faster. Others use refinancing as an inexpensive way to get an infusion of cash. This is called a cash-out refinance. In a cash-out
Right now, protecting yourself from scams is more important than ever. Since the start of the COVID-19 crisis, fraudsters have been very active, stealing millions of dollars from Americans at a time when many are already experiencing significant financial distress. But there are steps you can take
We get it: Following a budget isn't your favorite thing to do with your money. Especially when there are so many fun ways to spend it. But right now, creating a budget may be one of the best ways to support your financial security and peace of mind. All budgets involve setting priorities and making
Spring is in full swing, and Memorial Day is right around the corner. In any other year, many of us would be planning fun summer activities like neighborhood barbecues and vacations. But new safety and financial concerns mean many of us will be staying home this summer. We want to help you and your
In times of uncertainty or economic volatility, it's natural to be worried about your finances. We want to help make things a little easier. That's why we're sharing these practical financial tips to help you become more financially secure and better prepared for whatever tomorrow brings. Keep an
Even if your kids are cooped up indoors, there are lots of ways to keep them engaged and learning while they're at home. April is National Financial Literacy Month. It's the perfect time to focus on your child's financial literacy and teach them the money skills they'll need throughout their lives
In the market to buy your very first home? It's an exciting process, but it can also feel a little overwhelming. After all, there's a lot to learn and many options to consider, especially when it comes to your mortgage. Having the right information is key. Here's a helpful glossary of some important
A great car gives you an easier commute and more peace of mind on the road. Don't let a not-so-great auto loan keep you from enjoying your ride. If your current auto loan comes with high monthly payments and financial stress, it's time to consider refinancing. When you refinance an auto loan, you're
Home improvement season is just around the corner, and now could be a great time to plan your spring project. From mini makeovers to major upgrades, here are six great projects to help you boost your home's value, reduce the hassles of home ownership, and enjoy your place even more. Updated Flooring
Member Testimonial
Dover Federal gave me a better rate and helped me saved hundreds of dollars! Thank You Dover Federal Credit Union!
Ronald - Dover, DE